Guess who has a new radio drama out? Heirloom Audio Productions has done it again with their newest Christian audio drama, The Cat of Bubastes! Get ready to travel to back in time to the land of Egypt.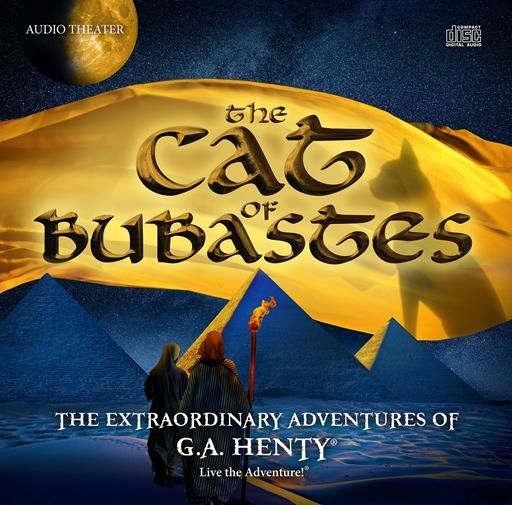 You may have heard me say this each time a new audio drama is produced but this one is so far my favorite. I remember my oldest son reading this book a few years ago and he loved it. That means a lot coming from someone who is not a big fan of reading. So when the opportunity came up to review this, we were all excited. We listened to each CD in one sitting because we just could not stop!
In this historical fiction adventure, you follow a sixteen year old prince, Amuba, and his protector, Jethro, as they are kidnapped from their land all the while no one knowing they have kidnapped a prince. You will follow along as God provides the path of protection and salvation for each of these men. First, by allowing an Egyptian priest who secretly believes in the one true God to bring them in as his servants. Second, providing protection for them over and over again as they find themselves in the middle of a conspiracy against the priest and his family. Lastly, as they fight together to capture what rightly belonged to them to begin with. Where is the cat in all this you might ask? Well, the climax begins with the cat and an arrow. I will tell you that the Egyptians considered cats sacred. True to Henty's style, The Cat of Bubastes contains adventure, adversity, a hint of romance, all on top of betrayal, conspiracy, defeat, and triumph. Now you can see why we had such a hard time stopping once we began!
Again, these dramas are not just audio books being read to you but complete theater productions with exciting sound effects!
We also received access to special bonuses in addition to the CDs. We received a Study Guide, a mp3 soundtrack, 2 mp3 files of the audio drama,The Cat of Bubastes ebook with beautiful color pictures, a behind-the-scenes video which we all thought was so fun to see, and a couple of printable posters including this beautiful inspirational verse poster.
I love that we can easily transport The Cat of Bubastes. We listened to the CD's on the way to and from basketball practice and then discussed the questions from the study guide when we returned home.
There are 29 tracks/lessons in study guide so we are completing 1 track/lesson per day and listening to the track again if needed. I love the fact that the study guide is made so user friendly by marking each track with the time stamp.

I still can't rave enough about the full color guide and era background pictures making it so much more fun to use. I don't know why but we all love our resources in color. We have never printed the guide out because we just answer the questions straight from the file on my laptop.
Questions are broken down into 3 sets:
The Listening Well questions - comprehension questions
The Thinking Further questions - these require a little more thought, sometimes finding places on a map, and student's interpretations
The Defining Words - vocabulary words
I also loved that we could find the spelling of the character names on the study guide too since we were dealing with very unfamiliar names.

On some tracks were additional expand your learning categories that students could read/do to enhance their studies further such as pharaoh information, recipes, maps, additional resource links, pictures of the historical period, historical background information, and more.

The study guide also includes 3 Bible studies with tons of Scripture verses for students to look up. We took one statement each day and looked up the verses together as a family.
Our entire family loved this audio drama and would highly recommend any of the audio dramas produced so far! If you are looking for a way to make history come alive, you will definitely want to check these out.

You can also see our reviews of With Lee In Virginia, In Freedom's Cause, Under Drake's Flag, and Beric The Briton from Heirloom Audio Productions.

Visit Heirloom Audio Productions on Facebook, Twitter, Google+, and Instagram.