For the past month, we have had the opportunity to try out an online reading program called Reading Eggs. The approach used to teach your child to read is called Stepping Stones Reading.
The Stepping Stones Reading lessons are the core of the Reading Eggs learn-to-read program. Each lesson builds on the previous one to build skills in the five key areas needed to become a good reader:
phonemic awareness and phonics
,
sight words
,
vocabulary
,
fluency
and
comprehension
.
The lessons are presented in three broad levels with 40 lessons in each level.
Level 1 Starting Out for absolute beginners, lesson 1-40, maps 1-4.

Level 2 Beginning to Read for emerging readers, lessons 41-80, maps 5-8.

Level 3 Building confidence for early readers, lessons 81-120, maps 9-12.
Your child will begin with an assessment test to determine the level and map area to begin at.
After the assessment, your child is placed in the correct level and map where the reading fun begins!
The lessons use animation, activities and reward games to keep children motivated.
The program is completely interactive to keep children on task.
After completing a lesson you child is rewarded with golden eggs which they can use to buy reward games. After completion of 10 lessons, children are given a mastery quiz and the results are emailed to the parent! (see below) Here are a few samples screens. You can also see more samples in action here.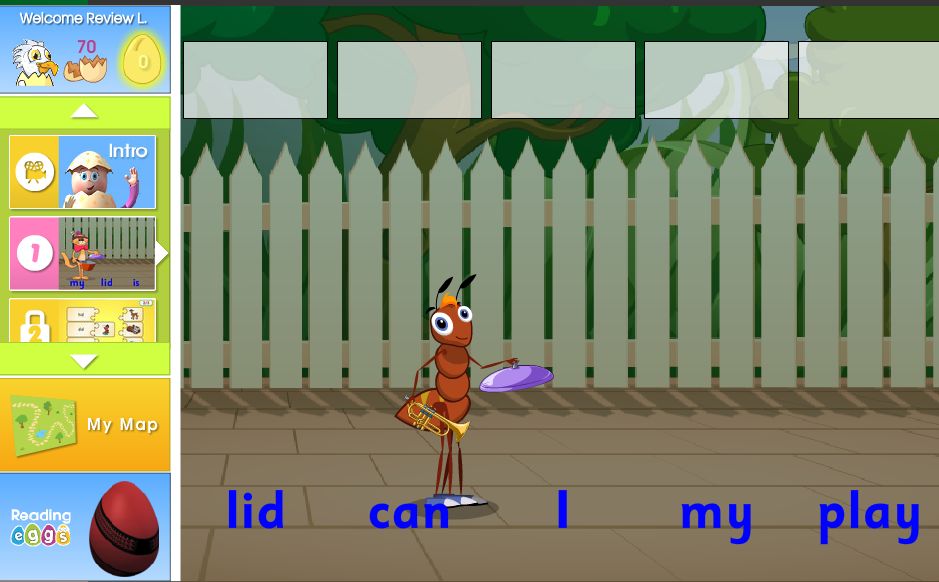 Sarah begs to "play" reading eggs. She is making so much progress and remember it has only been 1 month! She recently finished Level 2, map 4 and here is the email I received letting me know her results...
Reading Eggs Progress Report for Sarah
Your child has made good progress in Reading Eggs. Sarah has finished another ten lessons.
Sarah has just completed the Playground 4 Quiz.
Sarah passed the quiz, earning a Gold certificate. To see and print out this certificate go to your child's My Stuff page and click on Certificates.
In this set of ten lessons, your child learnt the following words, sounds and skills.
Map Information : Level 2 Map 4 Lessons 71 – 80
Letters and sounds – e, eg, ing, ed, en, et, eg, ell
Words learnt – table, plate, chair, people, food, band, day, dinosaur, egg, breaking, coming, now, ladder, monkey, butterfly, animals, bird, elephant, wing, tail, spikes, fire, claws, dragon, numbers, birthday, seven, party
Sample of sentences read – The dinosaur is big.
The lessons in this map focus on longer words and sentences. Your child is now reading longer sentences in more challenging books. To extend their skills into writing, try the Reading Eggs Story Factory.
With a new topic each week and a printable book at the end, it is never ending story writing fun.
I love getting these results sent directly to my email. I don't have to remember to sign in and check her progress. Reading Eggs sends it to me!! Love that!! Also available with your subscription are activity sheets that correspond to each lesson!
You can try out Reading Eggs for free for 14 days.
Subscriptions are available to purchase monthly for $9.95, bi-annually for $49.95, or annually for $75. They also offer a family discount if the sibling is added at the same time of 50% off! This price is one of the most affordable that I've seen for this type of program. You can also purchase actual
books and other accessories to go along with the online program here. For all the different packages and pricing available click
here
. We plan to continue our subscription and I can't wait to see Sarah's progress.
Here is a quick overview of the ages and levels where your child might fit.
**Disclaimer: I received free subscription in exchange for my review. The opinions here are my honest and true evaluation!