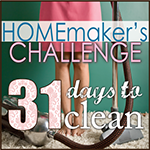 Today's 31 Days To Clean challenge was to come up with a plan for our family. I've been needing to work on our summer schedule so right on time!
Summer is
here
and with summer comes a new schedule because our school schedule is different with different priorities.
This summer I'm trying something new as well with our schedule. I'm going back to assigned days for certain chores. Here's what I am giving a try.
Monday – Laundry Day
Tuesday – Clean out day – taking different rooms each week and working on getting rid of stuff!
Wednesday – Paperwork and planning day
Thursday – Big Clean Day
Friday – errand/library day – this is the same day all year for us
We still continue with reading lots of books, read alouds, and some other fun school projects but three cheers for a flexible summer time schedule! Hip, Hip, Hooray!