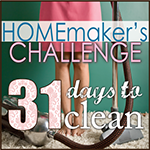 I survived week 1 of the Homemaker's Challenge! I must say that I am really enjoying the daily steps written in 31 Days To Clean. They are not overwhelming at all although I don't always get them done. :)
My biggest struggle this week was from Day 4 - inviting a friend over to prop up their feet. And my easiest challenge was from Day 3 - cleaning the top of the fridge and cabinets.
I knew the Mary challenges were going to be harder for me than the Martha challenges but I am persevering through - I even made the dreaded mission statement on Day 1!
It's not too late for you join if you would like! I don't think I've said it much this week so here goes. Accountability works for me :)!
You can visit my daily thoughts of the challenge below.
Day 1
Day 2
Day 3
Day 4
Day 5 - I didn't get to the Martha challenge but the Mary challenge I had to complete in Day 1 in order to write my mission statement. I couldn't do that without having my priorities in order!