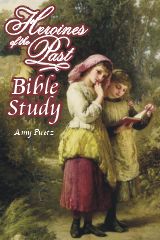 Heroines of the Past Bible Study is a 13 week study celebrating the noble deeds of women and girls from history. It is broken down into 5 daily lessons that are easy to incorporate into personal quiet time, school Bible time, or family devotion time. Sarah and I, however, kept this one all to ourselves. Mother/daughter time is something we love and this study was a wonderful asset to our time together.
This study is recommended for girls 8 and older. It is written by Amy Puetz, who is a homeschool graduate and owns Golden Prairie Press. She has a love and passion for history and it shows in this study.
This is not only a Bible study but a collection of historical facts about women and girls. Each chapter has a story about a righteous lady from the past, and then a study that digs into God's Word concerning the virtues demonstrated in the story.
Just a few examples of the women you will meet in this study are...
servant-minded women like Mary Slessor, who worked for Christ as a missionary in Africa

kindhearted women like Florence Nightingale, who served the sick

truth-seeking women like Katherine von Bora Luther, who boldly left a convent to follow Christ
You will also meet some lesser-known virtuous women who also impacted history.
One of Sarah's favorite parts was memorizing scripture together. Sarah loves writing and has beautiful handwriting so we put her memory verse cards in a photo album as a treasure for her to always keep.
For me, I loved the fact that all the work was done for me. Sample questions as well as scripture passages to look up were provided after each story, making my job so much easier.
Our absolute favorite for both of us was the box of visual reminders. Simple item suggestions were given as a reminder to keep our focus on God. An example of a reminder would be something as si
mple as a rock or glove, but the reminder we have when we see it is anything but simple.
The visual reminder from the story of Mary Slessor...
"Put a stone in your box. The bad young people of Dundee tried to frighten Mary with stones, but Mary wasn't frightened. She had learned to lean on the Rock of Ages. When you see this rock in the box, think about how God is your Rock."
I would highly recommend this study especially to moms and daughters. You could definitely use it in other settings but the bond that you will build during this study is priceless. It retails for $27.00 and can be purchased here in printed book or e-book formats.
For only a few more days, Golden Prairie Press, is having a back to school sale where you can save 20%. It ends September 1st so go there NOW! You can also see samples here.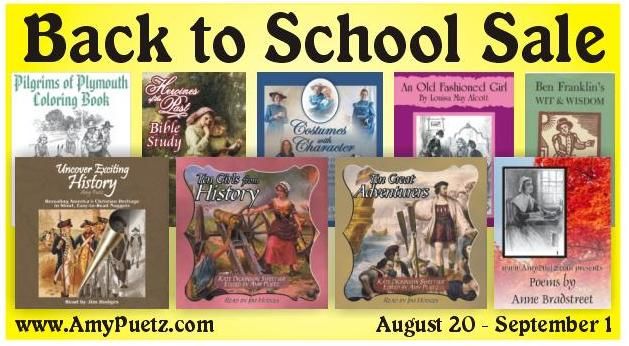 **Disclaimer: As a member of The Schoolhouse Review Crew, I received a free e-book in exchange for my review. The opinions here are my honest and true evaluation.