If you have been a reader here long you already know that we are a huge fan of Heirloom Audio Productions. Their line of audio dramas make you feel like you are right there in the moment of history. The latest radio adventure from their lineup is Beric The Briton.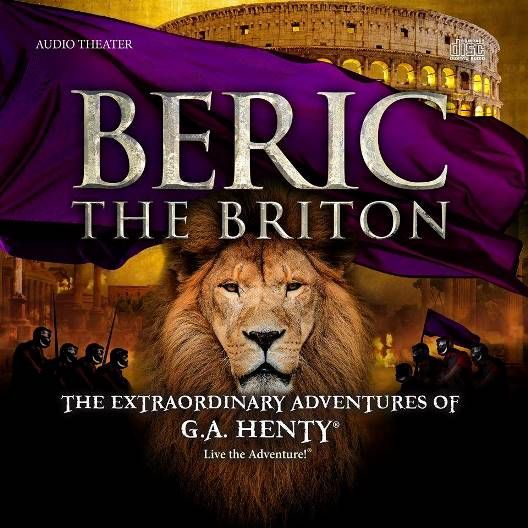 Beric The Briton, the audio drama, is based on the book, Beric The Briton, by G.A. Henty. In this historical fiction adventure, you will be transmitted back to ancient times in Rome when Nero was the Roman Emperor. You will be taken all the way to the times of the great Roman fire where Nero blames Christians for the disaster. Only you will be following a couple of Britons from the land of Brittania who were captured by the Romans and trained to be gladiators. As the background story unfolds of Beric and friend Bodouc and their struggles with revenge for themselves and country, Paulus which is Latin for Paul is out sharing about the love and sacrifice of an unknown God to them, Christus which is Latin for Christ. As the worlds of war and forgiveness collide, Beric is faced to examine himself and his beliefs.
It still amazes me the range of emotions that this time period brings to me as I read about it. You can only imagine the emotions that emerge as you not only read what happened but hear it come to life with shouting crowds, roaring lions, fierce gladiator fights, and brave Christian men and women willing to die for their beliefs. I found the hairs on the back of my neck standing up! Although, this story is fiction it is based on the true historical times of this period.
We also received access to special bonuses as well as the CDs. We received a Study Guide and discussion, a mp3 soundtrack, 2 mp3 files of the audio drama, Beric the Briton ebook, a behind-the-scenes video, and a couple of posters including this beautiful poster.
What I love most about Beric The Briton is its portability factor. Our resources arrived just as we were heading to Alaska for vacation. I transferred the mp3 files to my tablet and I was all set. Let me just tell you that these audio adventures are the perfect resource for passing the long hours on a plane. I only wish I had brought the other ones along to listen to again. With about 8 hours of flight time one way, we were all able to enjoy this great story. The drama lasts approximately 2 1/2 hours in total. Our entire family loved this audio drama!
The study guide has always been a favorite for us when we are home. We did not use it this time however I did look over it and was very pleased with what it had to offer. First of all, it is in color making it very pleasing to the eye. Each track is clearly defined including the time stamp. Each track has its own set of questions broken down into 3 sets - The Listening Well questions, The Thinking Further questions, and The Defining Words. On some tracks were additional activities that students could do to enhance their studies further such as recipes, additional resource links, pictures of the historical period, and more. I really loved the background the questions were included on.
Our entire family loved this audio drama and would highly recommend any of the audio dramas produced so far! I remember hating history when I was in school. Oh, how I wish these were around then! I am so glad they are available for my children to help them love history. You can also see our reviews of With Lee In Virginia, In Freedom's Cause, and Under Drake's Flag from Heirloom Audio Productions. Be sure to visit the Facebook page for Beric the Briton too.
Visit Heirloom Audio Productions on Facebook, Twitter, and Google+.