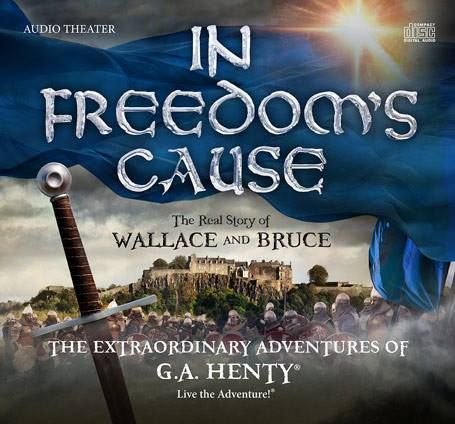 Heirloom Audio Productions has once again produced an exciting and thrilling audio drama titled In Freedom's Cause.
We received In Freedom's Cause Single Package which includes the following products:
2 CD Set with over 2 1/2 hours of adventure

Digital download of a full color study guide

MP3 download of the soundtrack

Digital Download of The Prayer Of William Wallace in full color
In Freedom's Cause was recorded in London with a cast of well known voices that you just may recognize. It captivates audiences as the true tales of William Wallace and Robert the Bruce of Scotland unfold. It is based on G.A. Henty's novel, In Freedom's Cause.
With lively sound affects and a passionate cast, In Freedom's Cause sheds light on how the world can be changed through leaders with remarkable faith in God. The audio drama took our emotions on a full roller coaster ride as it felt like we were standing right beside these courageous heroes as they fought and battled for their freedom.
William Wallace was well known for his courage and sword skills, but his true strength is clearly shown to come from his faith in God. He carried his psalter which contained the Psalms of David with him everywhere he went even to his death.
This is the kind of hero I want my children to learn about and
Heirloom Audio Productions truly brings the Christian heroes of our history to life.
Use In Our Homeschool
Don't miss the one on the floor!
We listened to the CD's as a family just before starting our regular school day as that seems to be the best time for us to accomplish family studies before everyone goes their own way. So, that would include a 11th grade boy, 8th grade boy, 6th grade girl, and me. Having both genders listen to the story, I can tell you that in our instance both loved it equally. Everyone would find their favorite spot and listen as the adventures unfolded. Sometimes, we all would get a little confused as to what was going on while listening so we would need to listen closely.
At the end of our listening time, we would review the questions on the study guide which would usually answer any confusion that we may have had. The study guide includes questions on comprehension and how well we listened. Usually someone could fill in the blanks for the one who may have been confused. Using the study guide really helped me to assess what was retained and what was not. The study guide contained vocabulary words to discuss and often included ones that we were unfamiliar with. Our favorite part was the thinking further section that helped to stir up conversation and allowed my children to express their own thoughts because they could not simply answer with yes or no.
At the end of the study guide were 3 Bible studies on fear, vengeance and forgiveness, and freedom.

You can find out more about In Freedom's Cause at these places as well: