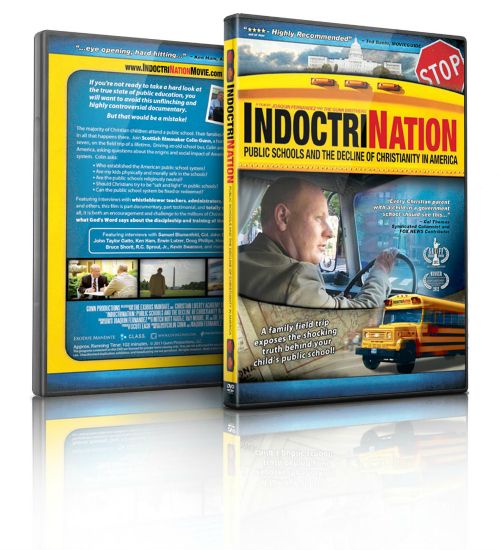 IndoctriNation is an award winning documentary on public schools and the decline of Christianity in America by Great Commission Films. We were given the chance to review the DVD which is approximately 102 minutes long.
In this film you follow along with homeschool dad, Colin Gunn, and his family as they set out across America to examine our country's public school system. You will travel along with them in a big yellow school bus as they visit states including Texas, North Carolina, Indiana, New York, Colorado, and many more.

When watching the trailer for this documentary, I knew that it would contain very controversial subject matter and they warned that it was not suited for small children. So, I decided to watch the DVD by myself.
My Thoughts

Normally, I am not a huge fan of documentaries. Quite frankly, I often find them boring. However, I did not find that with IndoctriNation. It is mixed with historical clips, fun animations, as well as interviews from many different well known people such as Ken Ham, Erwin Lutzer, R.C. Sproul Jr and more. Mr. Gunn also interviews a former public school student, teachers, and administrators as well. Several of them coming pretty close to my home town.

I would highly recommend this documentary to any Christian parent who is currently sending their child to public school. I have been that parent. As parents, we always want to do what is right for our children and try the best we can. This film clearly points out that government run schools are constantly defying what Christian parents are teaching their children all across America. They are beginning at younger, more impressionable ages as well. This warning on the film from a 34 year veteran teacher of the public school system was extremely profound for me - "I was in the buckle of the Bible belt. You need to get your children out. They are in danger. If not physical, serious spiritual danger."

The DVD tackles some of the controversial topics being shared with children in the public school setting such as suicide, feminism, homosexuality, alcohol, drugs, atheism, violence, rape, and so many more. It really hit home for me as I found some of my own words being spoken from several of those that were interviewed. As parents we all want to believe that our school is a good school and those things aren't happening in our schools but the truth is you do not know what is happening behind those doors when you are not there. The video shows many true instances where these things are happening in public schools all over.

The main question tackled on the DVD is what do Christian parents want for their kids. It is our responsibility to raise our children and teach them the ways of the Lord. When the Lord is constantly being taken out of what is being taught to them, do we still sit idly by and send them to schools run by the government? The truth is even Christian teachers and Christian administrators can only do so much or risk their losing jobs.

Here a just a few of the emotions I experienced as I watched this documentary:
disgust - as lollipop condoms were being passed out

anger - as a dad shares a book that his daughter was forced to read

tears - as a dad relives the terrible tragedy of his son at Columbine

disbelief - as teachers are fired for sharing their beliefs yet must teach the beliefs of others
My one fault with the film was during some of the interviews, the camera would zoom in and out sporadically which I found to be really distracting from the interview. I did not notice this happening as much in the second half of the video.

Overall, I loved this documentary and will require my children to watch it as a senior project. We still have a few years left before that will happen but I would love to hear their thoughts on this matter in the form of an essay.
You can also find out more about IndoctriNation at these places: