We recently had the opportunity to review Math Essentials No-Nonsense Algebra.
As we are headed into high school Algebra is a top priority on our homeschool subject list. This curriculum offers a very simple approach to Algebra. You receive a workbook that contains 10 chapters. The chapter titles are...
Necessary Tools for Algebra
Solving Equations
Graphing and Analyzing Linear Equations
Solving and Graphing Inequalities
Systems of Linear Equations and Inequalities
Polynomials
Rational Expressions (Algebraic Fractions)
Radical Expressions and Geometry
Quadratic Equations
Algebra Word Problems
Included with your purchase is an access code allowing you to watch online video tutorials of each lesson. So, you start each lesson with the video and are encouraged to work the problems along with the instructor. He completes the problems using a whiteboard as you watch. After completing the video, you go to the workbook where you will read over an introduction to the lesson, find additional examples and helpful hints, have practice exercises to complete and review problems. As you continue on through the book, also included are chapter reviews and a final exam. Solutions are given in the back of the text as well.
The instructor's voice was easy to understand and he explained the problems in a simple and easy way to understand.

The online videos were easy to read and follow.

The workbook problems were straight to the point and not overwhelming averaging from 12-18 problems and about 4 review problems so they could be done in minimal time.

The look of the book itself is not overwhelming. It is not a fat textbook at all but at first glance you feel as if this is something you really can do.

Having the online videos allows for visual and auditory learning as well as the workbook giving you a more hands on approach.

The price for the product is amazing!!
You also have this unconditional guarantee... (from the website)
Use Rick Fisher's Mastering Essential Math Skills for 20 minutes a day as directed. If you don't see what you feel are dramatically improved math test scores, send us a note saying so. You'll receive a prompt, complete refund - no questions asked!
Math Essentials No-Nonsense Algebra can be purchased online for $27.95 - don't forget that includes the workbook an access to the online teaching videos!
We also had the opportunity to review one of Math Essentials Mastering Essential Math Skills books on Fractions.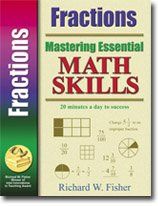 This book is set up in the same simplistic style but is used for supplementing areas that your student may need more help on. You begin this book with review exercises and then go over that section before moving on. Then the helpful hints and new material is introduced along with one story problem per lesson. Each is 1 page and meant to be done daily for complete mastery. Again, the solutions are in the back of the book each lesson can be completed in approximately 20 minutes a day. You can view sample pages here.
It can be purchased online for $11.95 or by snail mail using this form.
**Disclaimer: As a member of The Schoolhouse Review Crew, I received free workbooks. The opinions here are my honest and true evaluation.