We had the wonderful opportunity to review the third volume of
Apologia's
What We Believe Series
called
Who Is My Neighbor? (And Why Does He Need Me?).
We have also used
volume 1
and
volume 2
in this series.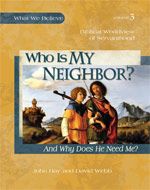 This bible textbook is beautifully illustrated in full color and with hard binding. It is written directly to the student in a conversational style and recommend for ages 6-14. We have used each volume with younger and older students with success as well. This time around, we used this volume as our night time family devotion book. It is completely versatile and we found it easy to adjust to meet our families needs. In the beginning of the book is a very informative "How To Use This Book" section that gives you the lesson structure as well as a lesson plan. The lesson plan given breaks each lesson down into 3 week segments allowing you to finish the book within one school year if used that way. We have used the suggested schedule in the past with great success but this time we just simply went at our own pace and I thought that was successful as well.
This volume focuses on the biblical worldview of servant hood which means that each lesson focuses on how we are meant to become more like Christ by serving others.
An answer for one of the most frequently asked questions...
Will the first book make sense if I don't buy all four?
Yes. Each volume will stand on its own and constitutes a complete course of study. However, you will find the courses to be most effective if you teach them in the intended order. Each volume builds upon the previous one with a minimum of repeated material. You must first know who God is (the subject of volume 1) before you can know who you are (volume 2). You must understand who you are and how you are meant to become more like Jesus (volume 2) before you can serve others as He served (volume 3). And you must understand your role as a servant and as an adopted member of God's family (volume 3) in order for us to work together to care for the earth, steward the message of salvation to the world, and use the gifts God has given each of us to bring glory to Him (volume 4).
Included with the purchase of your book is an online teacher help section. Once you purchase the book, open to page xiv for the code to enter for access to the teacher help section. It includes...
• Key themes and lesson objectives
• Vocabulary words and memory verses
• Suggested activities for use with the lesson
• Child-directed discussion questions for each topic covered in the
lesson—you simply read them aloud to help you guide the
• Recommended reading list for deeper study of the themes, people, and
places discussed in the text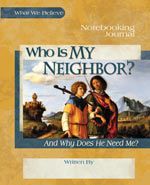 Also available is the Who is My Neighbor notebooking journal. Here is where you will find many hands on activities for your student to enjoy to help seal the knowledge that they are learning in the textbook. It includes puzzles, questions, imaginative writing prompts, mini books, copy work, vocabulary helps, prayer pages and so much more. You can see a sample page and the lesson plans. This resource is available to purchase online for $24. It also is in full color but optional. It is a favorite activity for my older children. They love anything that makes learning not seem like learning but fun.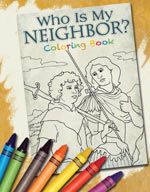 The last resource to go with this curriculum is the coloring book. Again, it is totally optional but it always amazes me how much my children love this. I don't know why it shocks me because I'm 39 and I still love to color myself! I let them color as I read the lesson to them. They absolutely love that. This is one of those resources that I would have to buy 3 of because they all love it so much (even my 14 year old!!). Here is a sample page. You can purchase the coloring book online for $8.
Overall, we love this bible curriculum and our plan is to continue with each volume.
**Disclaimer: As a member of The Schoolhouse Review Crew, I received a textbook, notebooking journal, and coloring book to review. The opinions here are my honest and true evaluation.