In my life week…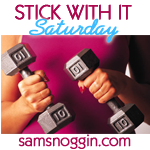 I entered the realm of a world unknown. That would be the world of exercise. :) I am just kidding, I have actually exercised before but it has been a while as you will see from the dreaded before pictures below.
I am exercising 3x a week using the 30 day shred to start. Honestly, I was sweating!
I rocked my goals again this week too!
In our homeschool this week…
Our planned full schedule had a few interruptions but we still accomplished most of what I had planned. We had to double up a few days to stay on track. Here are a few action shots. We skipped the school room this week too and ended up mostly in the living room.
My favorite thing this week was…
Cleaning out the junk drawer! I know that doesn't sound exciting but it has been a thorn in my side for a long time now!
A photo, video, link, or quote to share…
To brighten my week, Jill @ Enchanted Homeschooling Mom gave me this sweet award. If you are looking for some unique homeschool printables, you definitely need to visit her blog!