New Liberty Videos has produced a line of Christian DVDs whose tag line is "Christian DVDs changing lives now and for eternity." We had the opportunity to review The Forbidden Book.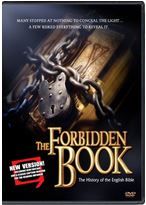 This DVD lasts approximately 58 minutes and carries you through the history of the English Bible. It is recommended for a general audience but it may be over the heads of younger children and discusses some hard topics. You would definitely want to preview this before sharing it with your children. In our house, we have already discussed some of the torture proceedings of the early church so my children were fine with watching.
It is presented in a documentary style with narration that takes you through the history of the English Bible.
It is broken down into these subtitles...
The Dark and Middle Ages

The Culdees

John Wycliffe

Chains of Freedom

William Tyndale

the martyrs

Martin Luther

King James Bible

Apocryphal Books

The Bible's Influence In America
This DVD will take you on location to England, Germany, Italy, and Switzerland where you will follow the footsteps of such brave men as John Wycliffe, John Huss, Martin Luther, William Tyndale and so many more. You will find out the obstacles they faced as they persevered to bring the common man the English translation of the Bible.
Some of the images included are (many more images and artifacts are included - this is just a few)...
1000 year old Torah on sheep skin paper

some of the first Hebrew Bibles

The Latin Vulgate.

building remains still standing today as well as some of the first churches to contain the title Christian on them

Oxford and Cambridge Universities

actual page from Tyndale's 1526 New Testament

the Geneva Bible

images from Foxe's Book of Martyrs
Our Thoughts and Usage
We loved seeing the images included in the DVDs as well as the locations. It really made you feel as if you were on a virtual field trip.
The narration style and classical background music made it a little difficult for my children to stay intrigued but stopping the video through out and discussing it at the subtitle points helped with that tremendously. They would have had a very difficult time watching the entire DVD at one sitting. We love learning together as a family but I think this would also be a great series of videos to include in any high schooler's curriculum.
You may purchase these DVDs online here or by sending a check. You may also preview some of the DVDs at New Liberty Videos. There are several pricing options available. Shipping is free no matter which option you choose!
3 or more DVDs = $ 9.95 ea or 6 DVDs = $49.95 Total