We are one of those families that loves science! It can sometimes be hard to fit it all in and it is hard for me to put together my own science curriculum so I like to find products that have already done the leg work for me. As a member of the Schoolhouse Review Crew, we were given the opportunity to review
e-Science Premium Membership from Supercharged Science.
Details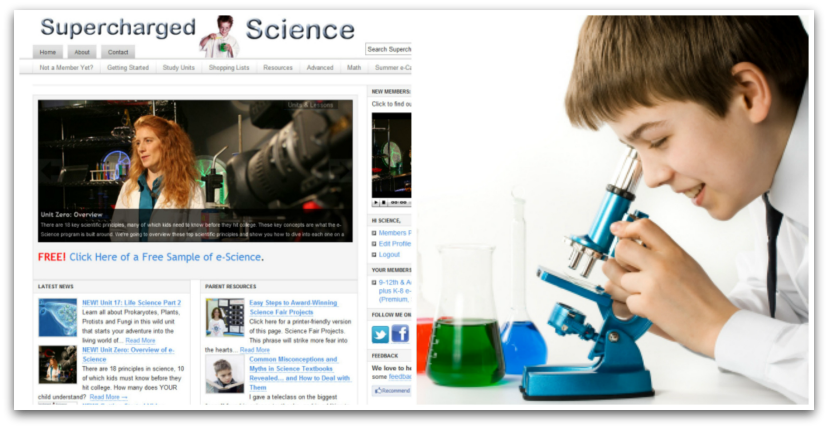 Places to find Supercharged Science
Facebook
Twitter
YouTube
Pinterest
Google+
Supercharged Science Blog
This is an online science curriculum available by purchase of monthly subscription. See the technical requirements needed to make this program work for you.
2 subscription options available
K-8 subscription for $37/month

9-12 extension for $57/month that also includes the K-8 subscription
As a new subscriber you will gain access to 2 new units per month so you will not be overwhelmed with the information available. If you see a topic you would like to cover ahead of time, you can contact them and they will help you.
This is a full science curriculum. You can use it as a supplement to any other curriculum but it is full science curriculum on its own. Supercharged Science has provided curriculum conversion charts to line up the lessons with many popular science curriculum options if that is how you wish to use it.
Main part of the curriculum
Videos where Aurora Lipper, who is the founder, rocket scientist, and educator, teaches the lessons to the student in step by step videos.

Hands-on activities and experiments

Quizzes with questions and answers

Parent resources

A place to ask questions - Aurora is great about responding to questions!

Recordings of everything so your kids can do the program on whatever schedule AND at whatever pace suits them.
Our Thoughts and How We Used It In Our Homeschool
As I navigated through the website, I realized it is completely full of information on science. I absolutely LOVED the way that Supercharged Science uses videos to aid in teaching the material available. It doesn't stop with the videos though. It includes every aspect that you could want in order to give your child a wonderful hands-on science education including text book readings, lab sheets, and supply lists. The subjects are broken down by topic or grade level so you can pick and choose what subject matter you want to learn about. The best part is that you don't have to have a science background yourself to teach any of the lessons. Aurora does it for you! I learned just as much as my kids did!
The program is designed for the student so your student could complete the lessons independently as well. I think that would come in handy especially for a high school student.
We are currently studying astronomy so that's the topic we decided to explore for now. I found the website extremely easy to navigate especially considering the vast amount of information that is available! I quickly found the astronomy lessons and we began to explore.
In our homeschool, we like to incorporate science lessons about 3 times a week and usually do a fun experiment at the end of the week. We have been known to combine the 3 lessons in a Fun Friday day of science as well!
In the astronomy section alone which is Lesson 2 of Unit 7, I counted over 70 video instructions available!! There are 20 different units available including biology, physics, robotics, and lots more.
Here are just a few of the areas we learned and explored about...
telescopes

magnetic tornadoes

atmospheres

meteorites and meteorongs (a fun play on words by Aurora :)

sundials

the moons of Jupiter

the curiosity rover

solar flares
Here we are doing one of our favorite experiments - making Mercury magnetic tornado simulation. Supercharged science gives you step by step instructions including videos, lab sheets, and questions and answers to make your experience so simple and easy to teach! We used different variations of materials and recorded our findings on the available lab sheets. So fun!
Watch the fun results below!
Another time, we watched a shuttle launch of the Curiosity Rover as it launched and then landed on Mars. It felt like we were there when it happened. It was so cool! We made sundials, eclipses, and sky in a jar to name a few. The other beauty of the program is that many of the experiments only require common household products to complete them.
Supercharged Science is making some sample experiments available to my readers and giving you full access membership for 1 month for only $1. Click here for the membership access and here for the sample experiments so you can try out the course for yourself!
I would love to tell you that we will continue our membership once our review period is up but the price is just too much for our family at this time. I do think the price for what you get is wonderful but it's just not in our homeschool budget at this time. I will be sure to continue to access the free material available though!