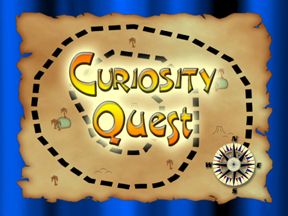 Our family was recently sent a DVD Combo Pack - Produce and a DVD Combo Pack - Swimmers of the Sea from Curiosity Quest to review.
I never heard of the show or Curiosity Quest at all so I was excited to find out more. Each DVD Combo Pack that we received contained 3 episodes of family friendly and educational material on various topics that people had written in that they were curious about. Each DVD combo pack costs $24.95 and can be purchased at Curiosity Quest. They offer many DVDs on different topics such as instruments, recycling, sports, and many more.
Also available is a homeschool membership that can be paid for monthly or annually and includes 2 episodes on one DVD per month with homeschool curriculum that includes follow up questions, projects and activities.
Other places you can find Curiosity Quest:
Facebook: https://www.facebook.com/CuriosityQuest
Twitter: https://twitter.com/curiosityquest
YouTube: https://www.youtube.com/channel/UCijkbeDwySOsg-pZjOeWsgg (lots of behind the scenes fun can be found here!)
Each DVD Combo Pack had 3 episodes on 3 different topics which were approximately 30 minutes long. Each topic also included Fun Fact information as well as much educational information. I learned a tremendous amount of information myself. The DVDs are recommended for ages 7-14 but fun for adults too! Watching the videos and seeing the host go on location was like taking our own virtual field trip. It felt as though we were right there as well. Host, Joel Greene, is fun to watch as he finds answers to the questions his viewers are curious about.
Here is just a small sample of the things we learned while watching each of the six episodes. This is by no means all we learned! These episodes are packed with lots of information!
DVD Combo Pack - Swimmers of the Sea
Salmon

what spawning is.

the largest size of a salmon

how they return back to their original hatchery

visited a hatchery in Juneau, Alaska and saw from egg to fully grown

learned what happen to the salmon after they give birth
Penguins

how many feathers they have per square inch

what they eat

average weight

what molting is

do penguins need vitamins

what sound they make

what they feel like

what a husbandry is
Sea Turtles

what they eat

what type of metabolism they have

life expectancy

what the largest sea turtle known weighed

whether they are carnivores or herbivores

differences in females and males
Cranberries

how they are grown

what time of year and how they are harvested

are they annuals or perennials

are they grown in water

what buoyant means

how to know when a cranberry is ripe
Mushrooms

best growing environment conditions

steps to grow

are they veggies

where the 1st mushroom farm was

what mycelium is

how they are harvested
Also in each episode are questions that are asked of different people on the street. We loved to pause the video at that point and try to guess the answers ourselves too.
I did want to mention that the terms mother nature and over 100 million years old are used in some of the videos.
Overall, our family loved these DVDs. We used them as part of our Fun Friday learning time and they were a great addition to our homeschool! Click the banner below to find out what my fellow crewmates thought.