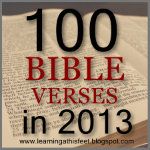 One of my goals for the New Year is to memorize more scripture verses. I'm joining Shanna over at Learning at His Feet and many others in memorizing 100 verses together. You can find the details here. There is also a facebook group for accountability.
We begin the New Year Genesis 1:1 and John 1:1 which are already memorized verses for our family.
To aid myself and encourage family members to join in each week I plan to write the verses to be memorized on our kitchen white board. I will also write them down on index cards for myself and place them in my "brain". Something about writing them down over and over helps me to memorize so they will be written all over my calendar pages as well. I'll start from memory each day and see if I need to make corrections. We will me memorizing the NLT version this time around.
Since these verses are already in my memory, I will be memorizing James 1:22 this week but I still placed them on the board for my family to see.