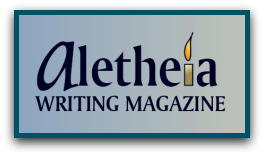 Aletheia Writing Magazine is published quarterly and focuses on the literary and artistic talents of Christian teens, ages 13-19. Aletheia is the Greek word for "truth" or "unveiling".
My son, Jonathan, who is 13 was the main person to review this product. I feel I must tell you that my son does not like to write, draw, or read for that matter. So, I knew this would be hard for him to review but I thought - who knows - it may just give him a love for one of those things at least!
His first time through, he opened the pages and thumbed through looking at the pictures. On the inside cover he found this picture of a studio featuring Captain America. I think that's all it took for him!
Inside the magazine is filled with stories and illustrations written by Christian teens. I found it so pleasurable to see such talent coming from the Christian teens of today's world. When the world has such negative things to say about teens, this magazine gives them the opportunity to shine. What both my son and I loved most was the fact that the pages are not cluttered with ads.
The annual subscription for this magazine is $26 and includes shipping and handling. You will receive 4 quarterly magazines in full color with your subscription. You can see the spring magazine here to get a feel for the articles and decide if this is right for your family. Some of the features include book reviews, poems, a writer's challenge, and a featured contributor.
Would our family purchase this normally? No, this is just not a product that fits our family. I think it is a great magazine but the cost is more than we could justify paying.

Don't forget to check out what my fellow crewmates thought of Aletheia Writing Magazine.

**Disclaimer: I received a free product in exchange for my review. The opinions here are my honest and true evaluation!