**Disclaimer: This post contains affiliate links
UnLock Math currently offers online Math courses in Pre-Algebra and they are releasing Algebra 1 soon (release date is set for August 3, 2015). They are also adding in Algebra 2 coming in 2016. We had the opportunity to review UnLock Pre-Algebra.
UnLock Pre-Algebra Details
This is a complete online math course that takes the stress out of Math. Since this is an online program, be sure to check out the computer and internet recommendations here. (scroll to the bottom)
The course includes 16 units along with a final review and exam for a total of 159 days worth of Math lessons. It includes a pacing guide in PDF format for you and your student with suggested schedules to choose. It suggests from 4 days a week to 5 days a week. Since it's summer time for us we went with a 3 day per week schedule but the way the course is laid out that was no problem whatsoever. Your student's progress is also tracked and graded in the online program immediately which this mama LOVES!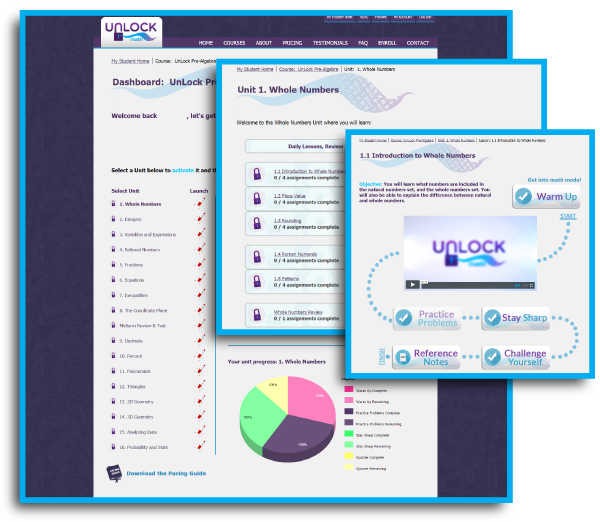 Each lesson contains 6 parts with different weights for grading:
Warm-up (0%) - This is simply a review of problems for the student to get them started with the lesson for the day.

Video Lesson - This is a video lesson taught by co-founder, teacher, and former homeschooler, Alesia, who goes through the concepts of the lesson for the day. She has a fun and energetic teaching style and it feels likes she is right there in the room with you.

Practice Problems (30%) - This is where your student will put into practice the lesson that was taught for the day.

Stay Sharp (10%) - These problems cover concepts learned previously so the student is receiving constant reinforcement with each lesson.

Reference Notes - This is a printable PDF document that contains the concepts and vocabulary of the lesson.

Challenge Yourself (5% bonus)- This is a bonus question that challenges the student and stretches them to think. If they do not get it correct, it does not count against them but they do receive a bonus for answering it correctly.
When a unit is complete the student will take a quiz (15%) and test (30%). There is also a midterm exam (5%) and final exam (10%).
The student dashboard is extremely easy to navigate and you launch each lesson by clicking on the rocket to open it. Each step of the way is recorded so it is so easy to pick back up where you left off. The gradebook gives you how many attempts the student had, how they did, and how long it took them to do it. There is also a pie chart giving you a fun visual to see what has been completed as well.
The course can be purchased here. The annual subscription is $299 or you can pay monthly for $49. There is a 50% sibling discount when subscriptions are purchased at the same time. You can also save $74.75 off an annual subscription purchase by using my refer-a-friend link (expires August 18th).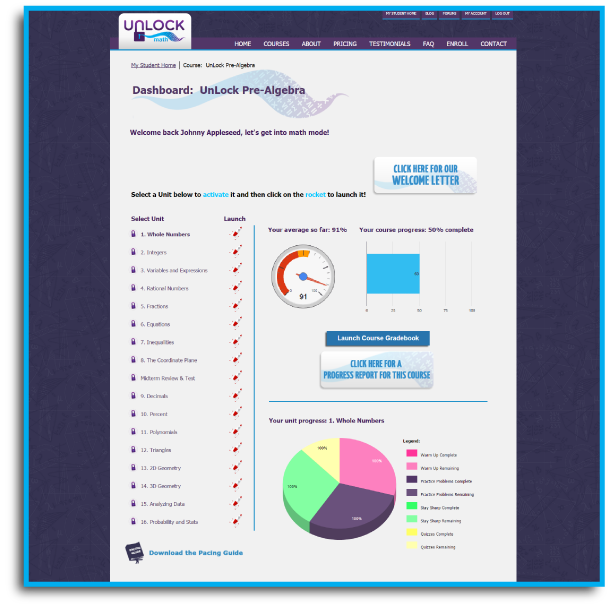 The first 5 lessons are suppose to be review for a student and as I suspected my son struggled to complete those. I'm not sure where his gaps are coming from in Math but I am sure that he has them! I do think that sometimes he just rushes through an assignment to say it's complete but the beauty of this program is he could go back and do it over and over until he received a satisfactory grade. So, we went at a much slower pace with this program than anticipated but I loved the fact that I could immediately see his progress and ask him to go back over the lesson again because I knew if he didn't get the beginning lessons there was no way he would do well on the latter.

As you reach the units after 5, the program has such a wonderfully unique feature as it guides a student to answer step by step allowing the questions to continue to teach the student. For example, if a student gets the question wrong, the course will guide them back through it step by step starting with giving them the first step and then allowing them to attempt to complete the next step. If they can't, the next step is given and so on. They are then graded according to what they could complete allowing for partial credit for some problems.
This is a very thorough math curriculum and is great for struggling students as well as struggling parents who are at a loss for teaching math. This program does it for you. You can clearly see that a lot of time and effort has been put into the lessons and videos.