The holiday season is here! If you are looking for a great Christmas book to add to your collection, then I have a priceless one to recommend!

David Nicholson has reintroduced A Classic Christmas Story by Nan F. Weeks called If He Had Not Come.
The book is a very quick read with only 40 pages and comes with a hardbound cover. It can be purchased here for $18.95. This story is best for ages 6 and up.
David Nicholson is a retired teacher and heard this classic story while sitting in his Sunday School class. In the preface he states that he remembered thinking to himself as he drove home that day, "I am going to read this story to my family this and every Christmas to come." He has now made it his mission to share this beautiful story with everyone.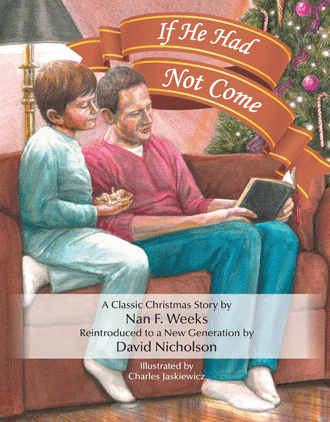 If He Had Not Come tells the story of a young boy named, Bobby. After listening to his father read John 15:22 on Christmas Eve, those five words "If I had not come" would not leave his mind. The rest of the story unfolds in a dream as just some of the things that would have happened had Jesus not come. Each reading page is coupled with a beautifully colored illustration page that brings the words completely to life. This illustration in particular had me in tears as I read this beautiful story to my children.
The story doesn't end there though, it brings you back to Bobby being awoken by church bells and being more thankful than ever that Jesus did come!
There is no better way to start the holiday season off than that! Focusing on the true reason for the season!
The back of the book allows you even more opportunities to reflect on as a family or church group. It includes several interactive questions. There is a Going Deeper section that aids you in exploring what the Bible has to say about the birth of Jesus. The Gospel Message is also presented along with Bible verses to help you find out just how simple the gift of salvation is to receive from Jesus.
An idea is given for a simple art project. It asks you to draw a Christmas tree and gives you discussion points of how a Christmas tree reminds us of eternal life in Jesus. My daughter completed this activity. She has also requested that this book be added to our books that we read every year!
Our family would highly recommend this book to all parents who are trying to teach their children that the best gift ever has already been given! It would also be a great addition to any church library.
Here is a personal note that was attached to the inside cover of my book when I received it. I find it such a wonderful touch when an author takes the time to do this. It's so simple, yet it makes a great impact on it's reader - me!