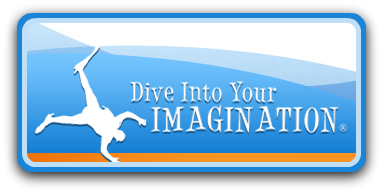 We recently had the opportunity to review a wonderful new to us DVD from the series called Dive Into Your Imagination. Annie Crawley (aka Ocean Annie) created Dive Into Your Imagination to change the way a new generation views the ocean. She followed her dream of bringing the ocean to children when she created the company Dive Into Your Imagination. Read Ocean Annie's full bio here. She has an amazing and inspiring story! The Dive Into Your Imagination Series contains 3 DVDs with beautiful cinematography of ocean life. We reviewed the 1st DVD in the series called, "What Makes A Fish A Fish?".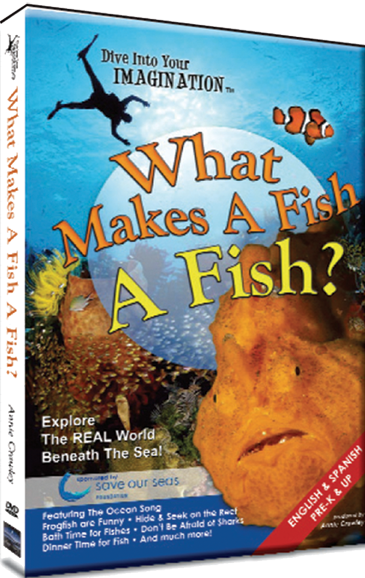 This DVD teaches children about astounding fish from around the world. How do fish take a bath? Learn the truth about sharks. Play hide and seek on the reef. The underwater realm provides boundless opportunities for parents to learn and laugh with their children. An upbeat original score celebrates the ocean and brings it to life. The DVD has three audio tracks, English, Spanish and music only. Great as an entertaining teaching tool for the classroom too!

Check out the sample chapter, Hide and Seek on the Reef:
The series is suggested for ages 3-8 but my 14 year old and myself enjoyed watching them too. The DVD includes 8 chapters but the whole thing is just 37 minutes long.

There is also a wonderful Educator Guide available with each DVD. This guide corresponds with each chapter from the DVD of the same title produced by Annie Crawley about life in the ocean. These cross-curricular lessons are ideal for young learners and bring science together with Art, Language Arts, Geography, Math, Music, Social Studies, Movement, Teamwork, Collaboration, Character Building Skills, Imagination Play and more.

For each chapter of the video there is a lesson plan that includes:
Character education and imagination play for your students.
A set of student questions correlating to the lessons designed to prompt discussion and enhance learning during video and multi-media viewing.
Ideas and support materials you can use to build learning centers in your classroom which combine science with other core subjects.
A glossary of scientific terms, eco-tips and websites for educator content support.
Suggested book lists and extension activities that can be used to bring an ocean of imagination flooding into your class.
We really enjoyed the worksheets included in the Educator's Guide and the questions included were a great tool for me. I learned a great deal myself! Just in the first chapter was this excerpt...
Fish come in many forms, shapes, sizes, and colors, yet they share common characteristics that make them "fish". In order to be a fish, an animal must live primarily in water, be a vertebrate with a skeleton, use gills to breathe, have fins for propulsion, and a mouth. Fish are called ectotherms because they get heat from the outside of their body. Scientists who study fish are called ichthyologists.
Who knew a scientist who studied fish were called an ichthyologist? Not me!! The Educator's Guide is definitely not an open and go guide. You will need to prep ahead in order to gain the best use of this resource. It is FULL of information. We absolutely did not do every activity but I loved the options that were given and the ease and freedom to pick and choose!

The DVDs are $19.95 each and can be purchased here. There are 3 DVDs in the series and all 3 have Educator Guides available. The Educator Guides are available as individual PDF's for $69.95 or for $299 for printed version of the whole set. I have great news though! As a special for the Homeschool Crew and The Old Schoolhouse Magazine and followers Annie Crawley of Dive Into Your Imagination, she will gift you a set of PDFs with purchase of the DVDs. When you place your DVD order, just let her know in the notes that you are a Homeschool Parent! Very Awesome!!
**Disclaimer: As a member of The Old Schoolhouse Homeschool Crew, I was received a free DVD and Educator Guide to review. The opinions here are my honest and true evaluation.