This review item came at the perfect time! My son was just about to begin reading The Bronze Bow and I had been looking for a way to give him more accountability in his reading.
Progeny Press study guides were written by homeschooling parents Michael and Rebecca Gilleland after researching the literature guides available to them and not being able to find anything that combined the guides with a Christian perspective. You can read more about the beginnings and their statement of faith here.
From the website..
Progeny Press study guides are designed to help students better understand and enjoy literature by getting them to notice and understand how authors craft their stories and to show them how to think through the themes and ideas introduced in the stories. To properly work through a Progeny Press study guide, students should have easy access to a good dictionary, a thesaurus, a Bible (we use the NIV translation, but that is up to your preference; just be aware of some differences in language), and sometimes a topical Bible or concordance. Supervised access to the Internet can also be helpful at times, as can a good set of encyclopedias.
We received the best selling Progeny Press Study Guide for The Bronze Bow and it was just what I had been looking for. In the guide, you will find much more than your normal comprehension questions. It provides easy-to-use, reproducible lessons on literary terms, comprehension and analysis, critical thinking, related scriptural principles, vocabulary, and activities, plus a complete answer key. It allows your student to really dig into the novel they are reading.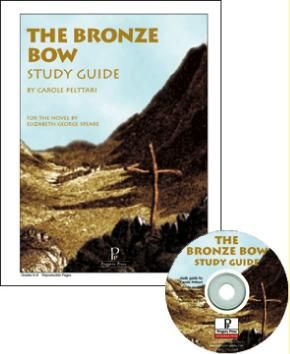 The study guide also includes...
notes to the instructor

synopsis of the novel

about the author

background information

pre-reading activities
You can see some of these samples in action here. Progeny Press has study guides available for lower elementary, upper elementary, middle, and high school students. The Bronze Bow Study guide is recommended for middle school students. My 8th grader reviewed this study guide and gave these comments...
"I like the fact that it breaks the chapters up and compares Biblical stories/people to what I am reading in the novel. I wasn't crazy about all the dictionary word look ups." :) That is probably a typical statement from a an 8th grade boy!
We were sent a pdf of the digital form sent as an email attachment. The study guide can be completed by the student directly on the computer which was another thing my son loved. I also loved that fact so we didn't have so many papers to print out. He would fill in his answers right on the computer and save them for me to check later.
This study guide is available in 3 formats and can be purchased here...
As a printed and bound booklet for $18.99

On a CD in .pdf format for $16.99

On CD and printed booklet for $23.99

As the same .pdf file as an e-mail attachment for $16.99
The book is not included with the study guide. You will need to purchase that separately. It is available at the website for $6.95.
**Disclaimer: I received a free guide in exchange for my review. The opinions here are my honest and true evaluation!