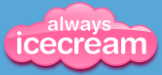 Sorry boys but this one is just for girls! And shhhh - don't tell but Stephen did watch Sarah and even helped his little sister out. :)
What on earth is Always Ice Cream? It is a bubbly pretty website designed for girls ages 7-12. It is full of fun and learning activities. Basically you earn scoops by playing games in categories such as Grammar, Geography, Typing, Science, and more. You can then spend those scoops to play other fun games. Some of those include building your own rooms with furniture you pick out and art projects that can be completed, a pet world where you can take care of and purchase food and accessories for your pet and so much more!
Always Icecream is a site where you can rest at ease. It is designed to be a safe haven for your girls and is completely ad free.
From the site......
"Founder and CEO Dr. Johannes Siegler came up with the idea for Always Icecream when he was looking for an appropriate internet website for his three daughters. In search of a site that combines safety, fun, educational value, and online networking he was unhappy with the existing sites. That's how the idea for Always Icecream was born."
Sarah absolutely loves Always Icecream. This is totally up her alley and any little girls that I know! She begs to play and has had a wonderful time creating, earning scoops, spending them, and creating some more.
Here is a video introduction of Always Icecream.
Sarah's favorite game for earning scoops was US Geography probably since our studies are focused on the states this year but it is such great reinforcement that she begs to do!!
She also enjoys watching the informative videos where she learned to draw a cat, make cupcakes in ice cream cones, and hip hop dance!
As a parent you can link your account to your daughters so that you receive weekly updates of what she has completed. You can also reward her with scoops from you for completing chores, just being your daughter, helping you, cleaning her room, etc. You can customize the educational content that is presented to your girls as well. There is a community feature available where girls can chat with their friends. You can disable this part of the account if you wish.
You and your little girl can try Always Icecream for free! Just be warned - it is fun and addictive!! If you decide to purchase a membership, you can do so monthly for $4.99 with the first month only costing 99 cents! Also available are annual memberships for $29.99 and lifetime memberships for $99.99.
Would our family purchase a membership to Always Icecream? Absolutely, and the lifetime one is quite a steal especially since Sarah just turned 8 and I could see this being a fun game for a long time!

Don't forget to check out what my fellow crewmates thought of Always IceCream.

**Disclaimer: I received a free membership in exchange for my review. The opinions here are my honest and true evaluation!